Kids-friendly beaches in Cyprus
Finding a suitable spot for a beach holiday can be difficult. And if you're going on vacation with kids, the task gets doubly complicated. Having tried dozens of options, you can choose the island of Cyprus, where there are ideal conditions for family vacations on the shores of the Mediterranean Sea. On which Cypriot beaches can children carefree build sandcastles and swim in the azure water??
Protaras. Fig Tree Bay.
Comfortable & clean Cyprus beach for kids
This sandy beach has been in the top 10 in Europe for 10 years in a row. It's popular for its fine, clean, bright-yellow sand. By the way, the name Fig Tree Bay was derived from the grove of fig trees, which used to be on this coast. Today, some of the trees are still standing.
Fig Tree Bay is Blue Flag rated as a pristine beach, so it's the perfect place for kids. The sea around its shores is shallow, the entrance is shallow, there are no dangerous creatures in the water, and lifeguards are on duty on shore. Of infrastructure facilities – showers, rental services, beach equipment, lots of sun loungers, restaurants, hotels, 3-5 stars. One popular family activity at Fig Tree Bay is snorkeling, which even kids can do.
Ayia Napa. Makronissos Beach.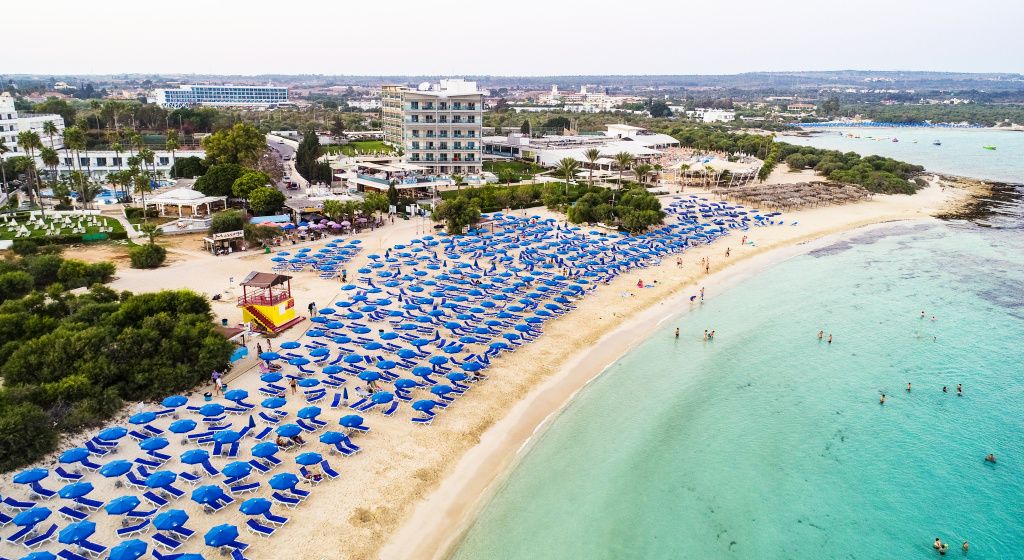 Makronissos Beach
Makronissos is another Blue Flag winner. It's a sandy beach away from the bustling tourist center of Ayia Napa. It's quieter than the city limits – no parties are held on the beach. The pros of Makronissos for a holiday with children are obvious: there are no high waves (on the east coast), well-developed infrastructure, and around – the unconditional beauty of nature.
Nearby is a five-star hotel. Of holidaymakers – mostly its guests or those who are tired of noisy Ayia Napa. There are paths, drinking fountains, and changing cabins for convenience on Makronissos. Working lifeguards. Kids can play badminton or beach volleyball in addition to spending time on the clean sand. The child will also be interested in visiting the historical site "Tomb of Macronissos". They are very close to the beach.
Limassol. Dasudi.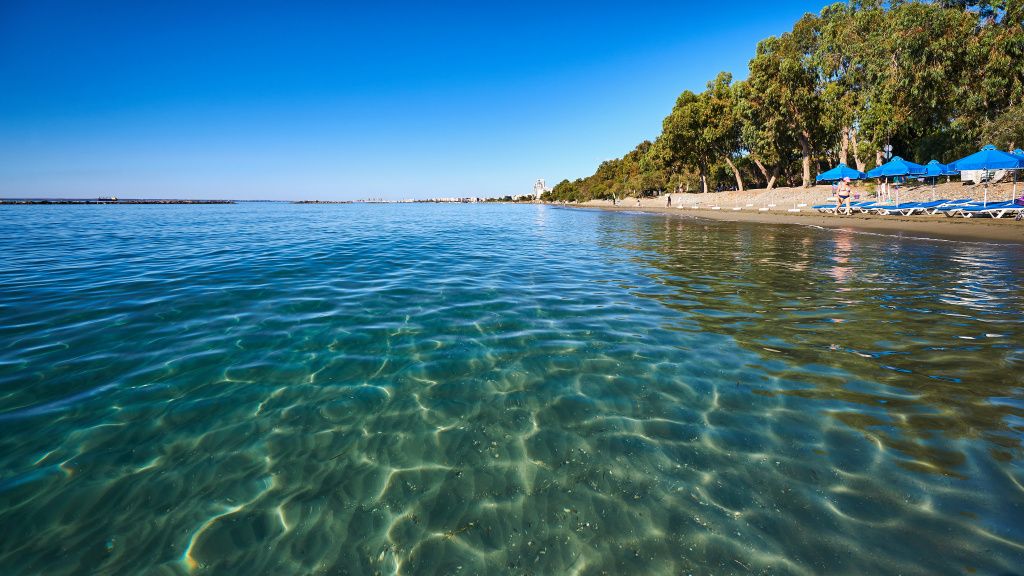 The clearest water in Dasudi Beach
Dasoudi beach stretches for 1 km along the tourist center of Limassol. On the coast there is a pine and eucalyptus grove, which creates shade and attracts tourists with children. There are family taverns near Dasudi, and on the beach itself there are two playgrounds: one for kids and one for volleyball (for older children).
Of other amenities, Dasudi Beach has showers, changing rooms, a snorkeling center, and a walking area along the grove. Lifeguards look after the safety of holidaymakers. The sand on the beach is gray-golden, pebbles are rare. In the afternoon the waves can rise, but from morning until noon Dasoudi is an ideal beach for a holiday with a child.
Paphos. Coral Bay.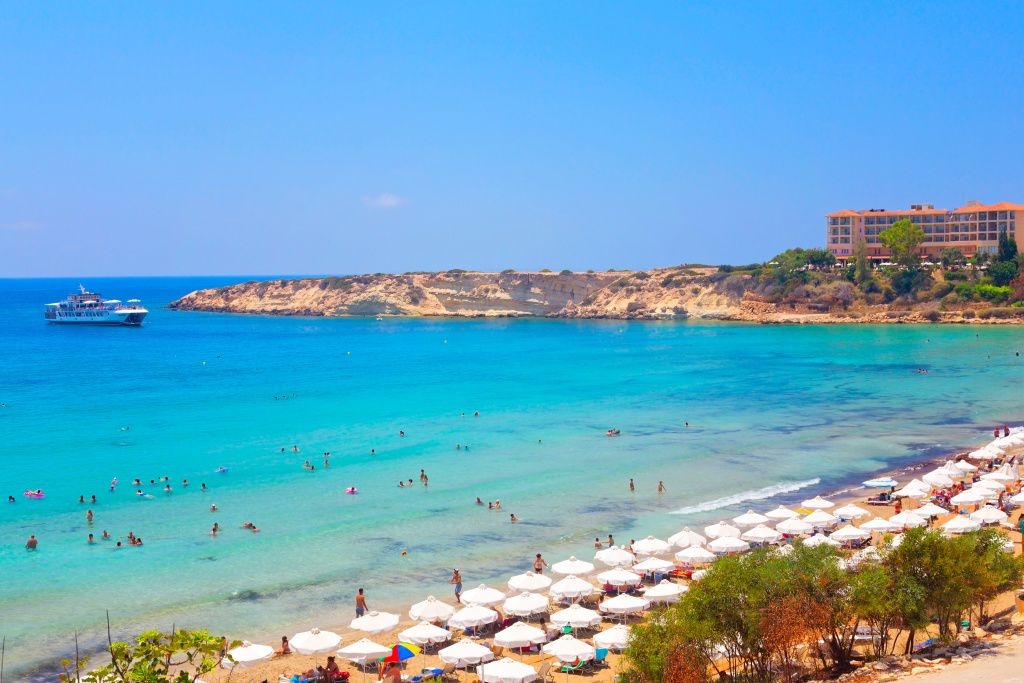 Coral Bay is another great beach for families
In the resort area of Peyia near Paphos is Coral Bay -the perfect beach of Cyprus for children. It's a strip of immaculate clean sand, surrounded by calm sea. In summer, Coral Bay is crowded, but there's plenty of room for everyone. The sea is a couple of degrees warmer than on the other beaches of Cyprus, there are no sudden changes in depth and undercurrents. There are a lot of conveniences for a comfortable vacation for the whole family: showers, cozy cafes, and water entertainment.
Larnaca. Finikudes.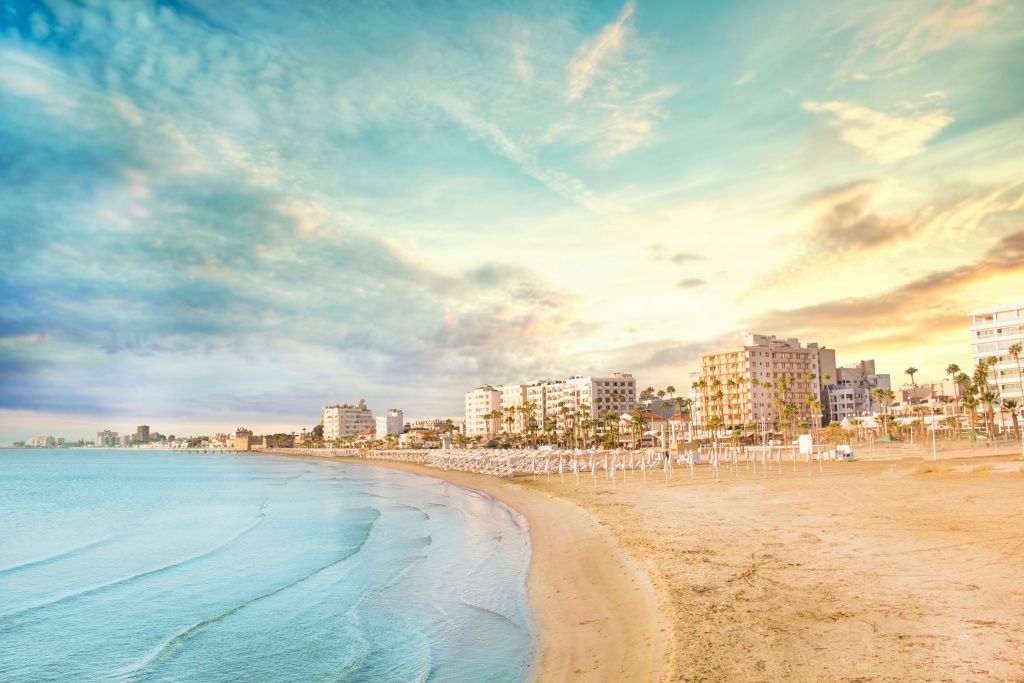 Finikudes – a beach with golden sand
The beach gets its name from the date palms that grow along the seafront. Finikudes – a wide strip of golden sand, where a lot of entertainment awaits. You can go on a boat ride, which kids will love, or just enjoy the sea. By the way, the sea at Finikoudes Beach is shallow and safe for children.
All summer on the embankment near the beach street performers and entertainment events are held. For the little ones there are playgrounds.